From its beginnings as a fishing village, Lagos has grown into a large metropolis that attracts migrants seeking opportunity and Internally Displaced Persons fleeing violence. These already mobile communities are particularly vulnerable to forced evictions.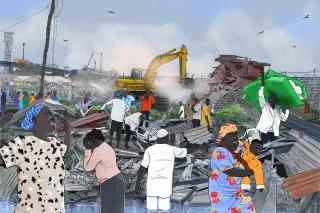 Lagos, city of migrants 
From its origins as a fishing village in the 1600s, Lagos has urbanised stealthily into a vast metropolis, wielding extensive economic, political and cultural influence on Nigeria and beyond. Migration in search of opportunities has been the major factor responsible for the demographic and spatial growth of the city as Lagos has grown from 60,221 in 1872 to over 23 million people today. Indeed, a major impetus to the evolution of modern Lagos is the migration of diverse groups of people from Nigeria's hinterland and beyond.
By the 1800s, waves of migrants (freed slaves) from Brazil and Freetown had made their way to Lagos, while many from Nigeria's hinterland including the Ekiti, Nupes, Egbas and Ijebus began to settle in ethnic enclaves across the city. In the 1900s, migrant enclaves were based on socio-economic and/or ethnicity status. Hausas (including returnees from the Burma war) settled in Obalende and Agege, while the Ijaw and Itsekiri settled in waterfront communities around Ajegunle and Ijora. International migrant communities include the Togolese, Beninoise and Ghanaian, as well as large communities of Lebanese and Indian migrants. The names and socio-cultural mix in most Lagos communities derive from these historical migrant trajectories.
A study on coordinated migrations found that, as a destination city, Lagos grew 18.6 per cent between 2000 and 2012, with about 96 per cent of the migrants coming from within Nigeria. While migration to Lagos has traditionally been in search of economic opportunities, new classes of migrants have emerged over the last few decades. These are itinerant migrants and internally displaced persons.
Itinerant migrants are those from other areas of Nigeria and West Africa who travel to work in Lagos while keeping their families back home. Mobility cycles can be weekly, monthly or seasonal. Such migrants have no address in Lagos as they often sleep at their work premises or in mosques, saving all their earned income for remittance. They include construction artisans from Benin and Togo who come to Lagos only when they have jobs, farmers from Nigeria's northern states who come to Lagos to work as casual labourers in between farming seasons (see box), as well as junior staff in government and corporate offices whose income is simply too small to cover the high cost of living in Lagos.
While people from Nigeria's hinterland continue to arrive in the city in droves, the wave of West African in-migration has ebbed significantly. This is mostly because of the economic challenges Nigeria is currently facing that have crashed the Naira-to-CFA exchange rates. As a result, young men from Togo, Ghana and Benin are finding cities like Dakar and Banjul more attractive than Lagos.
Aliu came to Lagos in 2009 on the back of a cattle truck. His first job was in the market carrying goods for market patrons. He slept in the neighbourhood mosque with other young boys. Over the years, he has done a number of odd jobs including construction work. In 2014, he started to work as a commercial motorcyclist (
okada
) and later got the opportunity to learn how to repair them. He describes himself as an engineer and for the past four years earned his income exclusively from riding and repairing
okada
. Even though he can afford to rent a room, he currently lives in a shared shack with seven other migrants. He makes between N5000 and N8000 weekly and sends most of it to his family through a local transport operator who goes to Sokoto weekly. His wife and three children are in the village, but he would rather send them money than bring them to Lagos. According to him, "T
he life in Lagos is too hard for women"
. Since he came to Lagos thirteen years ago, Aliu has never spent more than four months away from Sokoto at a time. He stays in Sokoto during the rainy season to farm rice, maize and guinea corn, and has travelled back home to vote every time since he came to Lagos.
The second category of migrants are those who have been displaced from their homesteads in Northern Nigeria by conflict, either Boko Haram insurgency or invasions by Fulani herdsmen. With many who initially settled in camps for Internally Displaced Persons (IDP) dissatisfied with camp conditions, the burden of protracted displacement is now spurring a new wave of IDP migration to urban areas. Even though empirical data on the exact number of displaced persons migrating out of camps to cities is difficult to ascertain, it is obvious that this category of migrants are negotiating their access to the city and its resources in circumstances quite different from those of other categories of migrants.
IDPs as the emerging migrant class in Lagos
According to the United Nations High Commission for Refugees, two of every three internally displaced persons globally are now living in cities. Evidence from Nigeria suggests that many IDPs are migrating to urban areas in search of relative safety and resettlement opportunities, with Lagos estimated to host the highest number of independent IDP migrants in the country. In moving to Lagos, IDPs are shaping the city in a number of ways including appropriating public spaces and accelerating the formation of new settlements.
There are three government-supported IDP camps in the city, with anecdotal evidence pointing to about eighteen informal IDP shack communities across the city's peri-urban axis. This correlates with studies from other cities that highlight how this category of habitations (as initial shelter solutions for self-settled IDPs) accelerate the formation of new urban informal settlements and spatial agglomerations of poverty and vulnerability.
Integration Strategies
There is an established protocol for supporting international refugees. However, the same cannot be said for IDPs. They do not enjoy structured support outside of camps, and we have seen that camps are not an effective long-term solution to displacement. There is a high rate of IDP mobility to cities like Lagos, which establishes the fact that cities are an integral part of the future of humanitarian crisis. Their current survival strategies are not necessarily harnessing the urban advantage, especially due to lack of official recognition and documentation. Moreover, expansion of the city has resulted in tensions around indigene-settler dynamics, especially in accessing land, political influence and urban resources.
Where voluntary migrants are often perceived to be legal entrants to the city and so can lay claim to urban resources, the same cannot be said about IDPs. Despite being citizens, and despite Nigeria being a federation, IDPs do not have the same rights as other citizens in many Nigerian cities and constantly face stigmatisation and harassment, which reinforces their penchant for enclaving.
The lack of appropriate documentation and skillsets also denies migrants full entry into the socio-economic system. For example, Rebekah said: "I had my WAEC [Senior Secondary school leaving certificate] results and when Boko Haram burnt our village, our family lost everything including my certificates. But how can I continue my education when I have not been able to get it? I have to do handwork [informal labour] now". IDP children make up a significant proportion of out-of-school children in Lagos as many are unable to get registered in school simply because of a lack of address.
Most IDPs survive by deploying social capital—especially ethnic and religious ties. IDP ethnic groupings are quite organized; most belong to an ethnic-affiliated group and consider this as particularly beneficial to their resettlement and sense of identity in Lagos. Adamu from Chibok said, "When I come to Lagos in 2017, I come straight to Eleko. My brother [kinsman] help me with house, and he buy food for my family. As I no get work, he teach me okada work wey he dey do."
Interestingly, migration to the city can benefit women as many who were hitherto unemployed due to cultural barriers are now able to work. Mary, who fled Benue with her family due to farmer-herder clashes explains: "When we were at home [in Benue], I was assisting my husband with farming, but here in Lagos, I have my own small shop where I sell food. Now I have my own money and my own work."
Forced Evictions and the Plight of IDPs
Lagos is Nigeria's primate city with a population of over 20million people, and a very small land area (3,577 km of which 22% is water)1. Lagos' size and status results in ever increasing demand for available land and recurrent tensions in land governance. Both customary and statutory land administration practices are operative in Lagos and despite several land related institutional reforms2, many Lagosians are unable to navigate the process successfully.
Aspiring homeowners in Lagos are often unable to procure land or housing from government channels due to the high cost and extensive bureaucracy. As such, they prefer to purchase from traditional land holding families usually in the city's peripheral areas. For example, Daniel3 purchased a plot of land in Igando in 2015, commenced construction immediately and moved in with his family in 2021. According to him: 'When you buy from omo onile, you can be guaranteed of moving to site immediately, but when you buy from government through the Land Use Allocation Committee, many processes will follow, and even allocation is not immediate. I preferred to use the money for title documentation and C of O to do foundation. At least, now I am no longer paying rent.'
Studies show that over 90 percent of real estate transactions are outside the formal market4, and up to 70 percent of properties in the city lack requisite titles5. For land accessed through informal channels similar to Daniel's, the title regularisation process can be cumbersome, with fees assessed at upwards of 35 per cent of the market value of the property. This process has been described as 'corrupt, laced with bureaucratic delays, and outright exploitative'6, with the result that only few land or property owners ever bother applying.
Purchasing land from traditional land owning families is risk-laden. For example, there have been instances when single plots were sold to multiple persons7. The construction process is also quite expensive as informal levies are charged at various stages (plot fencing, foundation, decking and roofing) by the 'Omo Oniles8'. Failure to pay may result in the violent destruction of parts or all of the property.
The Lagos State Properties Protection Law9 was signed into law in 2016 to curb the activities of Omo Oniles. However, the law is considered to have some fundamental flaws10, and its enforcement has been quite weak11.
This type of land acquisition trajectory has intensified urban sprawl along the peri-urban axis of Lagos, resulting in slum proliferation as most peri-urban communities lack basic services12. Home owners in such places resort to community mobilisation of resources for urban service provision. Possession of a government issued certificate of occupancy is no guarantee of tenure security, as we saw recently with the Supreme Court judgement against 549 plots in the high brow Magodo Scheme 2 estate – a Lagos state government residential layout13. Previously, in 1990 and 2013, residents of two low income communities - Maroko14 and Badia East15 - had been forcibly evicted in the name of urban renewal despite possessing valid titles. These sites have now become totally gentrified as they have been redeveloped into private housing estates, effectively completing the cycle of 'accumulation by dispossession' that attends many 'urban renewal' exercises16. Other communities such as Otodo gbame have suffered similar fates17.
In the last ten years, there has been an increase in the number of homeless people on the streets of Lagos—either living under bridges, in public parks or incomplete buildings. Many of them are newly migrated IDPs, unable to access the support necessary to ease their entry into the city's established slums or government IDP camps. Marcus, who came from Adamawa State in 2017 and has been living under the Obalende Bridge for five years, said, "I am still managing, living under the bridge. I won't do this forever, my life will not end like this under a bridge. I hope to one day return to my home and continue my life".
Without rights to reside in their dwellings, newly migrated IDPs are particularly vulnerable to forced eviction. Adamu, who currently lives in Owode Mango—a shack community near the Lagos Free Trade zone—and has been a victim of forced eviction four times said, "As they [government or land owners] get ready to demolish this place and render us homeless again, we will move to another area and live there until they catch up with us." Practically all slum communities in Lagos are vulnerable to eviction, with those located in waterfront areas more susceptible18. Forced evictions thus impact internally displaced populations in particularly harsh ways. These already marginalized, mobile communities without access to the best employment opportunities and public services are arguably more susceptible to being forcibly displaced, and, they are particularly ill-placed to deal with the many negative consequences of forced evictions, from damage to livelihoods to harmful affects on mental and physical health.
Conclusion
Migrants are attracted to big cities based on perceived economic opportunities, and Lagos remains a choice destination city. There is therefore need to pay more attention to understanding the patterns, processes and implications of migration into the city. "Survival of the fittest" is an everyday maxim in the city of Lagos. For migrants, this is especially true as they are not entitled to any form of structured support from the government. Self-settlement is therefore daunting, especially in light of systemic limiting factors. The paucity of migration-related empirical data inhibits effective planning for economic and social development. Availability of disaggregated migration data will assist the state to develop targeted interventions for the various categories of vulnerable Lagosians.
Targeted support for migrant groups must leverage existing social networks, especially the organised ethnic and religious groups that migrants lean on for entry into the city and for urban integration. With limited integration, their survival strategies are inevitably changing the spatial configurations of Lagos. While the city government is actively promoting urban renewal, IDP enclaving is creating new slums. Therefore, addressing the contextualised needs of urban migrant groups is a sine qua non for inclusive and sustainable urban development.
On the specific issue of housing, despite gaps in our knowledge, we know migrants risk precarity in order to secure affordable housing. With affordable land being available in under-served peri-urban areas, they also forgo access to basic services in order to secure a home. After securing their homes, communities manifest agency by pooling resources for basic service provision.
Significant gaps exist in both customary and statutory land acquisition pathways in Lagos. Land reforms have not succeeded in simplifying the land acquisition process, nor even significantly expanding access to tenure security. Strengthening land tenure security for Lagosians (including migrants and IDPs) is important but policymakers must go beyond land reforms. Practical steps should be taken to promote affordable home ownership pathways, as well as accelerating sustainable urban development planning and infrastructure provision in peri-urban communities, while supporting community led urban renewal practices.
The problem of forced evictions, which appears to affect newly migrated IDP populations in particular, and in particularly harsh ways, must be tackled through a range of measures that acknowledge and build on their self-organization. While residents of Maroko, Badia east and Otodogbame were unable to protect their communities from being taken from them, many local communities are becoming more pro-active. The 2013 Badia East evictions led to the formation of the Nigerian Slum/Informal settlement federation19, with membership in over 100 Lagos slum communities and affiliations to Slum Dwellers International, the global movement for the urban poor20.
Communities under imminent eviction threat have also adopted more direct approaches to secure their land. An example is Ilufemiloye that obtained a court injunction to prevent eviction.
Ilufemiloye, Onisiwo Island: Vulnerable to Eviction and pushing back
Ilufemiloye (also called Irede) is a waterfront community close to Tarkwa Bay. Property owners in the community purchased land from the traditional land-owning family. According to one of them: 'When we came in 2009, we bought land through the Baale, the representative of the Onisiwo family who gave us a letter of allocation written on community letter head. When I pushed further, I was told that is what was given to everybody who bought land from the family. That kind of paper is not what can be used to push for C of O at Alausa23, but the situation I found myself, my landlord giving us quit notice, I couldn't help it, I had to build so I have a place to lay my head.' The community, alongside many others in the area, faces an ongoing current threat of eviction by two federal government agencies - the Nigerian Port Authority (NPA) and the Nigerian National Petroleum Corporation (NNPC). While the NNPC seeks to remove the residents in order to mitigate crude oil pipeline vandalism along the Atlas Cove, NPA claims that Irede residents are encroaching on land that was conceded for port expansion by the Federal Government in the 1970s.
In the aftermath of 2020Tarkwa Bay evictions which displaced over 4500 people in nine communities24, and in order to dispel the imminent threat, the community obtained legal protection.
Given that the Lagos state government had ignored such injunctions in the past21, whether this is sufficient to protect them from eviction remains to be seen. The community has also been collaborating with government and civil society partners to develop its own urban redevelopment project22.
*All names used in this article are pseudonyms
-----