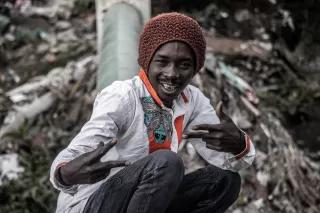 I live in Dandora, Gitare Marigo, next to Nairobi River. There is poor sanitation due to burst sewer lines and it is next to the largest dumpsite in Nairobi. I live in a stone-walled house with an iron sheet roof.
I moved from Gem Yala to Lucky Summer in Nairobi to develop my talent. I then moved back to Gem to bury my father and sort out land issues for a while. Then I moved back to Nairobi to Ngomongo with my bother; then I moved out to Njiru alone to a cheaper house. Covid affected my sources of income, and I had to move again to Dandora to get access to places in which I could nurture my talent. Travel costs and water shortages were also a factor. In this move, I lost property, which I had to sell or give away.
Being alone, away from parents and family made me vulnerable to being profiled and picked on as a young man. The bursting of Nairobi River banks has displaced people. The footbridge was washed away and three people lost their lives as a result. In Njiru there were demolitions by government agencies. Many people lost their homes despite having title deeds.
Unemployment makes access to food difficult. The wages from construction sites are low. Sometimes we have to get food on credit. At Temple Art Centre we used the riparian space to grow food. We get vegetables from the garden. We need support to help pump spring water that can be made available, farm tools and vegetable seeds.
This testimony is part of the Dossier Urban Displacement. Forced Evictions: Stories from the Frontline in African Cities