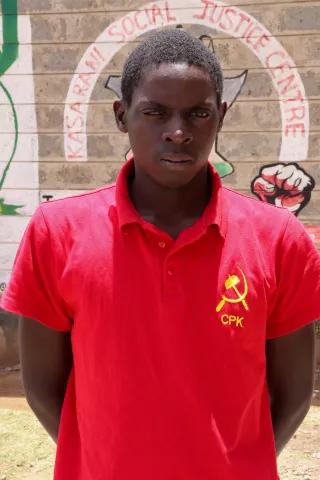 I live in Gituamba, Mradi. The houses are made of stones and others of iron sheets. I live in a stone walled double room with my roommate. There is electricity supply; some people use unregulated lines. Water is in short supply; it comes once or twice in a week. I live there because it is the place I have known since childhood. It has few public schools.
My family migrated from Mathare North in 2002 due to ethnic post-election clashes. Some communities were forcefully evicted. The rent in Gituamba is higher. My father then bought a plot which does not really have security of tenure because they have no title deeds. They were self-allocated after construction of the road.
I cannot detail the experience of displacement well because I was a child. My sister had to drop out of school. Food was expensive. It was a hard economic time due to the election and the post-election clashes.
There is word going round that there will be displacement in our area because the land is said to belong to Kasarani stadium. It will be challenging to move because areas around are more expensive and we will have lost our livelihoods and sources of income.
The cost of living has gone high making access to food expensive. There are no markets around Kasarani so people have to go for some distance to the markets like Githurai, Korogocho and Dandora making it even more expensive.
The Kasarani Ecological Network is using green public spaces like the riparian to grow kitchen gardens. This is done through youth and women's groups. There is a need for capacity building on agribusiness and financial support to do urban farming such as hydrophonics.
 -----
This testimony is part of the Dossier Urban Displacement. Forced Evictions: Stories from the Frontline in African Cities