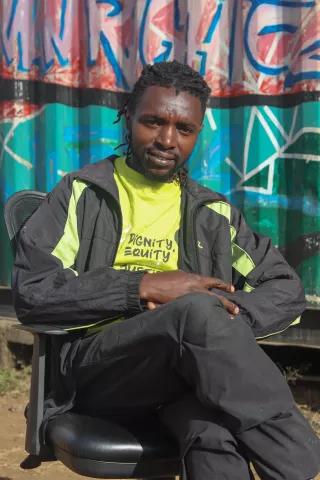 I live in Kayole. It is heavily populated, cramped. Some houses are high rise buildings and others are made of iron sheets. It is near Ngong River. Water is in short supply. It comes once a week. I live in an iron sheet house surrounded by concrete high-rise buildings.
I lived in Muranga, then moved to my grandmother's in Nakuru to get time to learn other languages and adapt to a cosmopolitan place. I lived in Dandora with my mother through primary school. My father was an itinerant small trader. We had to move from Dandora due to high rates in crime. I lost friends to police killings and mob justice. I was also vulnerable due to my family's difficult economic situation: I had to work in the dumpsite at one point.
Being cut off from childhood friends and having to make new ones was difficult. We had to leave some belongings and give some away in the move. Some girls had to go into early marriages. Those who had to go to boarding schools, their parents had to move nearer to the schools.
Heavy El Nino rains in the 90s and 2000s affected my parents' livelihood. As traders, Kayole was convenient for them to access the markets.
Accessing food in Nairobi has been a challenge. Food is expensive and safety is not guaranteed.
I have tried doing urban farming through use of sacks but it has not been sustainable. I got small quantities that could not fetch enough profit. Land in Nairobi is polluted and access to water is a challenge. We need indigenous seeds that are resistant to harsh climatic conditions.
-----
This testimony is part of the Dossier Urban Displacement. Forced Evictions: Stories from the Frontline in African Cities